OTD Hockey Thanksgiving Classic Ice Hockey
MonTueWedThuFriSatSun 9:00am to 10:00pm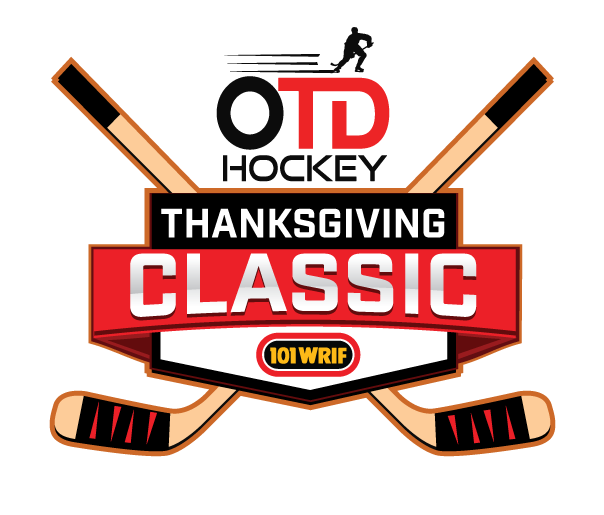 On the Dunes Sports would like to announce we are officially turning our sand into ice.
COMING SOON THE OTD ICE ARENA WILL BE HOSTING THE 1ST ANNUAL
OTD Hockey Thanksgiving Classic
There will be 6 divisions from three 21 and over, 40 and over, 35 and over and also a Women's Division
Games will start Friday morning and continue into Sunday night for the Championship games.
We will be having a kids skate under the lights Saturday night and also having anther chance to skate Sunday afternoon.
We will have a heated out door bar for all your food and beverage needs.
All team coaches register and pay for the team and then please invite your teammates through the site to register onto your team and to fill out the mandatory waiver. Come to the date of the tournament and a player isn't registered they will not be able to participate.
WE ARE EXCITED TO HAVE EVERYONE OUT!!
LETS PLAY HOCKEY!!!!
Womens Platinum

Players that have played College, Club, and Travel

40 & Over

Men's team with all guys over the age of 40

35 & Over

Men's team with all guys over the age of 35

21 & Over

Players that have played Travel, House, Recreationally

21 & Over Gold

Players that have played Club College, Travel, High School and Lower Level Juniors

21 & Over Platinum

Players that have played Pro, College, and High Level Juniors
RULES
All players are required to wear a helmet.

Full equipment is not required.
All players must be 21 years of age by the start date of the tournament.

Teams must also follow the additional age requirements for the respective division.

Photo ID�??????�?????�????�???�??�?�¢??s are required at check-in and will be checked throughout the event.

Players unable to produce a photo ID acceptable to a tournament director at any point, cannot participate until an acceptable ID is provided.
All players are required to sign a release form prior to playing.

All players play at their own risk.
Players may only play on one team.

Players cannot play for multiple teams.
Minimum number of players on a team is 4, maximum is 8.

Teams must have 4 players at the start of each game.

Teams need to be ready to play at their designated start time; if a team does not have four (4) players ready to play, they will be penalized 1 goal for every 2 minutes the game starts late.

All goals must be scored from the attacking side of center ice.

There will be no off side or icing.

One referee will be used for each game and penalties will be enforced.

Any minor penalty called such as tripping or slashing will result in a goal for the non-offending team plus change of puck possession.

Any major infractions called will result in ejection from the tournament with no replacement.

Fighting is strictly prohibited. Any player that fights will be ejected from the tournament with no replacement.

There will be no checking or body contact. A minor or major penalty will result if the referee deems it serious enough

There will be no slap shots.

If the stick comes above the knee in a slap shot motion, it will be deemed a slap shot and result in a goal and a change of puck possession.

There will be no raising the puck above the knees; pucks that are intentionally raised above the knees will result in a change of puck possession.

Making contact with the puck using your stick above the waist will result in a change of puck possession.

There will be no goalies or use of goal tending equipment.

Inside the crease: Defensive players may not lay their stick on the ice, drop to their knees or lay on the ice to protect the goal.

A goal for the non-offending team will result and change of puck possession. No offensive player may stop or remain motionless while inside the crease line unless engaged with the other team for the puck. Change of possession will result.

If the puck goes out of the playing area the referee will determine who sent it out and give possession to the non-offending team at the point where the puck went out.

The defending team must provide two stick lengths to their opponent upon re-entry and play must start immediately on the referee�??????�?????�????�???�??�?�¢??s command (whistle)
There will be a center ice face-off to start the game and the second half.

Otherwise, teams will be required to wait on their side of the center line for goals scored and penalties.

Defensive teams can engage the offensive teams once the play starts moving up ice .

The offensive team must move the puck up ice quickly on the referees command (whistle).
Illegal players and teams:

if the tournament director(s) determine that an illegal player has participated in the tournament:

(1) the player(s) shall be immediately removed from the tournament. (2) The team using the ineligible player(s) will receive a 0-1 forfeit loss in each of the games played with the illegal player(s).

Illegal players are any participants that violate the minimum age requirement for their division or also includes players playing in a game that have not been documented on the rosters turned into tournament director by their team captain.
FORMAT
This tournament is a 4 on 4 round robin event

Every team is guaranteed three (3) games

Each team will play three (3) round robin games within their group.

The winning team from each group will advance.
Teams receive:

Regulation Win = 3 pts; Overtime Win = 2 pts; Overtime Loss = 1 pt; Regulation Loss = 0 pts

All games are 50 minutes in length consisting of two 25 minute run time halves with a 2 minute warm-up before each game.

Round robin games that end in a tie will result in a 3 minute run time overtime period.

The team that scores the most goals during that period wins.

If still tied, there will be an additional sudden-death overtime where the first team to score wins.

Top two teams from each division play in championship game on Sunday. Tie breaker: Head to head, if tied- total goals against for three games, if tied- two members each team take three shots each from center ice (alternating) with most total goals winning, if tied- sudden death shootout with same two players each team (alternating).

Championship games that end in a tie will be decided by a 5 minute run time overtime period.

The team that scores the most goals during that time will be the winner.

If still tied, 5 minute run time periods will continue where the team that scores the most goals during that period wins; until a winner is determined with one minute breaks in between each period.*The Tournament Director(s) reserves the right to make any decisions regarding tournament rules, format, etc. for the overall good of the event
REGISTRATION IS LIMITED; FIRST COME; FIRST SERVE
---
MonTueWedThuFriSatSun 9:00am to 10:00pm

Team Fees

Regular

500.0 per team + 5.0 Processing Fee

MonTueWedThuFriSatSun 9:00am to 10:00pm

Team Fees

Regular

500.0 per team + 5.0 Processing Fee

MonTueWedThuFriSatSun 9:00am to 10:00pm

Team Fees

Regular

500.0 per team + 5.0 Processing Fee

MonTueWedThuFriSatSun 9:00am to 10:00pm

Team Fees

Regular

500.0 per team + 5.0 Processing Fee

MonTueWedThuFriSatSun 9:00am to 10:00pm

Team Fees

Regular

500.0 per team + 5.0 Processing Fee